Welcome to Scandraft
Scandraft are experts in all types of materials and accessories for image, decor and advertisement production, and we know how to use them to create benefits for businesses, companies and individuals - now and in the future. We offer you both innovative products and the market's strongest brands and solutions. Our customers are in industry, signage, trade, state and municipality around the entire Baltic Sea. We work in close relationship with our customers so that our offer is adapted and developed to the challenges they face every day. It has been our goal for us since the start in 1992.
FAMILY COMPANY WITH HISTORY
The family business Scandraft was founded in 1992 by Staffan Gnosspelius and Greger Andersson. We currently have 40 employees with an annual turnover of SEK 231 million (2021). Scandraft AB has also had a Triple A Gold credit rating since 2003. Scandraft AS in Norway was founded 2011 and are today a subsidiary of Scandraft AB. Since 2018, Scandraft AB is also a majority owner in Rangefabriken AB for the manufacturing and distribution of aluminum and steel sheet.
HIGH AVAILABILITY AND SECURITY OF DELIVERY
Our offices and warehouses are located in Mölnlycke outside Gothenburg and in Stockholm, Moss, Löddeköpinge and Skellefteå. With our local presence, we can guarantee high availability through fast distribution and delivery security. Our warehouses are well stocked and equipped so that we can deliver what you need adapted to your wishes.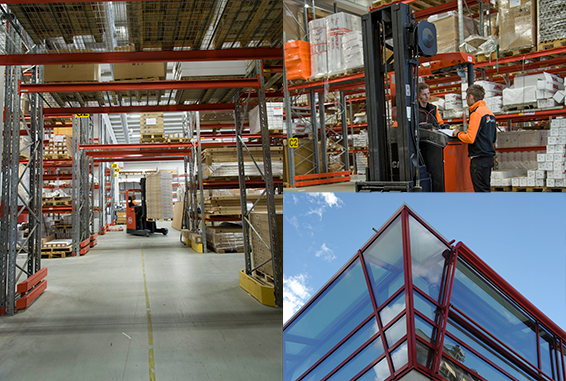 OUR KNOWLEDGE IS YOUR RESOURCE
Our experienced and knowledgeable employees give you guidance when you need it, our offer includes advice and training in our broad product range. With over 30 years in the industry and a high level of commitment, we have solid knowledge that we are happy to share. We keep you updated on what is happening in the market and for us it is important that our customers can trust that we know what we are talking about. We have a genuine interest in always learning new things that help our customers create long-term and profitable business.
CONSIDERATION OF QUALITY AND ENVIRONMENT
The company is continuously improving work in quality and the environment. Since 2008, we have been certified according to quality ISO 9001 and environment ISO 14001. Our work to increase customer satisfaction and reduce our environmental impact gives us the opportunity to conduct goal work in priority areas, but above all, continuous improvement in daily work.